[ Home | Map | Layouts & Rates | Availability | FYI | What's New | Contact Us | COVID-19 ]
---
Important changes to our cancellation policy and check-in times due to the COVID-19 pandemic:
Due to the uncertainty of how COVID-19 will effect us this summer we are changing our cancellation policy from 120 days to 48 hours before you arrival for any 2020 visits. We reserve the right to open later or close earlier as needed if the crisis continues. We also will not be able to guarantee the 3 pm check-in time as extra time might be needed to clean the cottages! Please be sure and check your email often for notifications of any changes and information! Thank you for your understanding and stay safe during this crisis!
---
Here is a new Google Map showing our cove and the cottage locations. I disabled the zoom so you need to use the link below the image if you want to explore the area. If your GPS is older and can't find our street name, you can enter in the GPS coordinates (GPS: 44.431259, -68.295135) or use the form below to get Google directions to the our place!

Open up Google Map page
Download our directions from the Maine-New Hampshire state line:
http://www.woodlandparkcottages.com/DirectionsME-WPC.pdf (15mb)
[ Home | Map | Layouts & Rates | Availability | FYI | What's New | Contact Us | COVID-19 ]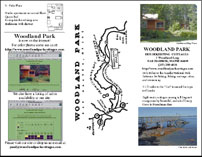 http://www.woodlandparkcottages.com


e-mail: paul@woodlandparkcottages.com

Woodland Park Cottages, 3 Woodland Loop, Bar Harbor, ME 04609; (207)288-4016
copyright Paul Mun 1998